Stay Connected With Senior Living Near You

Clarendale of Chandler in Arizona
It's the lifestyle you love—only better. Clarendale is a community focused on "connected living," helping you stay engaged with friends, family and the metropolitan area you lovingly call home: Chandler, Arizona.
Clarendale is a welcoming resort-style community. Rich in services and casual comfort, it offers modern residences, exceptional amenities, unprecedented hospitality and a continuum of care if needed. As well as convenient, affordable month-to-month rent.
Learn About Clarendale Senior Living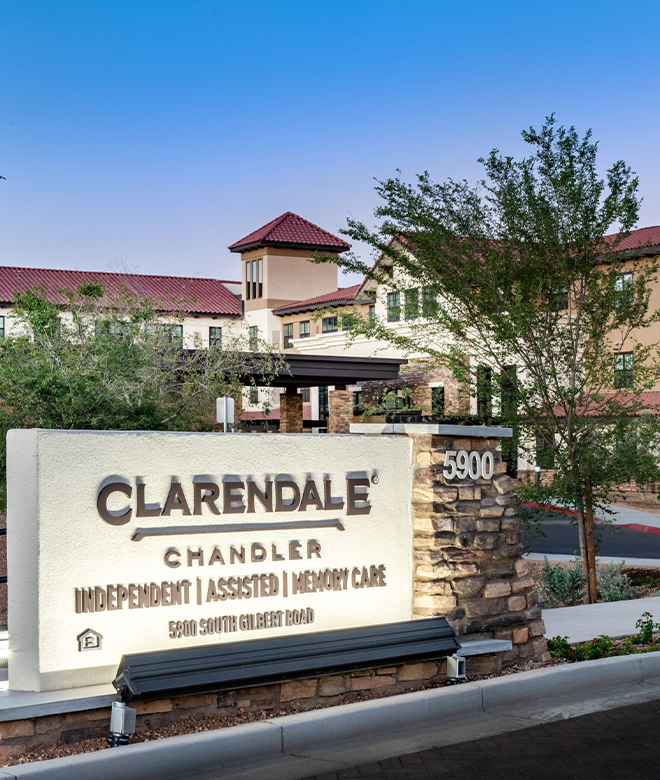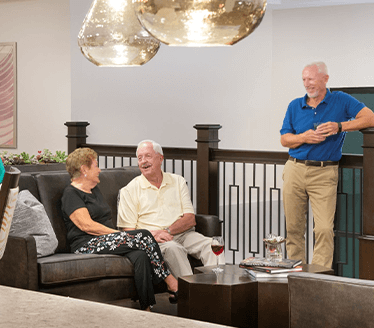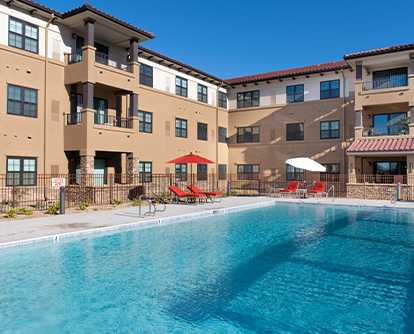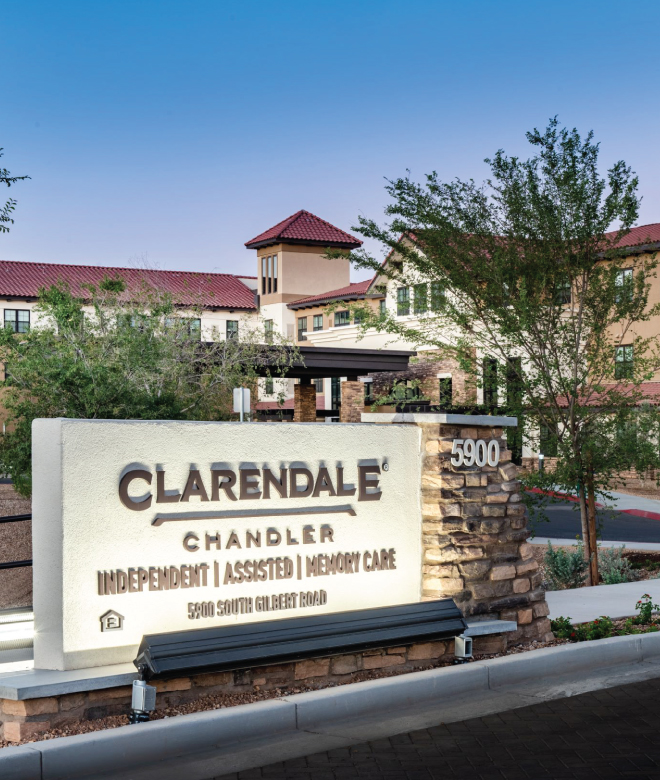 Managed by Life Care Services®, An LCS Company®, Clarendale Offers Exceptional Signature Experiences
The cornerstone for company culture, Extraordinary Impressions is more than just a philosophy. It's a hospitality promise of exceptional service to residents that's always first and foremost.
From developing unique meal and exercise plans to scheduling appointments and transportation, the Navigators handle health care logistics and planning so each resident can focus on their health.
Raising the bar in overall safety for residents and staff, EverSafe 360° reimagines the way we live and work together. This innovative program addresses safety measures to ensure a comprehensive approach to well-being for every resident.
An all-encompassing ideology based on the simple belief that people deserve choices, so we deliver a vast array of services and benefits, without compromise and with an uncommon level of flexibility.
Check Out Clarendale News & Events
Wondering what life is really like at Clarendale? Curious about resources available to help choose the right senior lifestyle? Read the latest headlines, search upcoming events and find blog posts that will support you during your senior living search.
"We're very independent and love different things about the community. Even our dog Mandy loves Clarendale of Chandler. She has lots of space and easy access to the outdoors—especially important since she likes to play ball."
—Testimonial from Terry, Colleen and dog, Mandy 
"My mother-in-law just moved into Clarendale. Keep in mind she's 87 and moved here from Ohio. A very huge task for an elderly person. The move was very smooth; there were no 'bumps in the road.' The staff helped us through all of the logistics."
— Testimonial from Sabrina
"The building, the rooms, the ambiance, the staff, the food, the atmosphere, the care ...are commendable. The personal touch and the genuine care and concern that I have observed and experienced is what makes Clarendale a cut above the others."
— Testimonial from Jocelyn
"Clarendale has been such a blessing for my mom! She is very independent and needed a place where she could do activities, exercise, go to Bible study and meet/visit with other people. Mom is in perfect hands at Clarendale!"
— Testimonial from Sharon
"We love and appreciate Clarendale's memory care! Our Mom arrived there in horrible shape after neglect at another local facility during COVID. Their care brought Mom back to life; actually they saved her life."
"From the very first contact, my wife and I have been treated extremely well. The entire staff has bent over backwards to assist us in transitioning to the next chapter of our life. We are excited to experience all Clarendale has to offer."
— Testimonial from Rockne
Still have questions about senior living at Clarendale of Chandler?
Contact the senior living experts at Clarendale directly by calling or scheduling a visit.
Contact Our Team